Watch Us and Follow Volume 1
Theatrical Release:
February 24, 2004
DVD Release:
February 24, 2004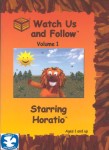 Synopsis
Horatio and his friends Hannah, Ayden and Alexander will guide your child through a set of interactive skill building segments that are both educational and fun.
Dove Review
This is another delightful video for children to watch. There are many elements introduced: colors, numbers, shapes, animals, the out-of-doors. Horatio is a puppet that takes the child from one segment to another. The children are delightful, and were filmed in their homes, which makes for a very natural setting and not contrived. I liked this touch. There are no special effects, just good music along with views of objects seen every day by all of us: but seeing them through the eyes of a baby gives a good perspective.