Lizzie McGuire: Star Struck
Theatrical Release:
March 9, 2004
DVD Release:
March 9, 2004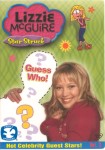 Synopsis
This electrifying collection features incredible guest stars. First, join Lizzie, family and friends as they have a close encounter of the Aaron Carter kind when crashing a holiday video shoot. Next, Lizzie's in the middle when famous Frankie Muniz visits Hillridge. Then, her unfinished parade float is adorned by Steven Tyler of Aerosmith, and Doris Roberts redefines the "grand" in grandmother as she pays Gordo a visit.
Dove Review
Lizzie McGuire is a hot new television series that you can now get on Disney DVD. Lizzie is in middle school and always has adventures of a lifetime. But, she also has crushes and dilemmas and schemes like any other kid her age. I love watching Lizzie McGuire because it always keeps me interested and laughing. And there's also a lesson in all of the episodes. From having a crush on the cutest guy in school to what to do when presented with a choice between good and bad, every moment of Lizzie McGuire is a fantastic journey. All in all, this is a great video and i recommend it for every family everywhere.
Info
Company:
Buena Vista Home Video