The Best of Komodo Kids
Theatrical Release:
March 15, 2004
DVD Release:
March 15, 2004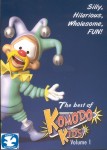 Synopsis
This is wacky cartoon fun! There are several segments to be enjoyed: "Wimp E. Waffle Diner;" "Komodo Films;" "Doodle Time Art Supplies;" "M.U.S.C.L.E. Gym;" plus a special bonus feature at the end. Just good clean cartoon fun.
Dove Review
Each segment of this video is short enough to hold the attention of the very youngest child. I found it interesting that there isn't any talking at all. The objects make noises and there's plenty of good music to keep the flow going. The episode "Doodle Time Art Supplies" is fun viewing. The pencil bends, smiles, and draws a cat, which then begins a chase. Will Mr. Doodles win this silly chase? This video is recommended for young children.