Brother Bear (2 Disc Special Edition)
Theatrical Release:
March 23, 2004
DVD Release:
March 23, 2004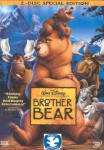 Synopsis
An impulsive boy named Kenai is magically transformed into a bear, and he must literally walk in the bear's footsteps until he learns some valuable life lessons. His courageous and often zany journey introduces him to a forest full of other bears, bear cubs and moose. This is a 2 disc set with many added features, such as "moose commentary," games and more.
Dove Review
When I watched this video, which is beautifully packaged into 2 discs with many added features, I was wondering if this is the Eisner effect at Disney: going too far into animism. Watching the boy morph into a bear is portrayed so that a 3 yr. old child will understand.
There are far more entertaining Disney productions that I've seen: "Snow White" and "Fantasia" to name just two, which go way back. There are some cute scenes in the forest, but the songs make it clear: we're all one, brothers with the animals. The boy eventually morphs back into his own body, but not without another animism-type scene. Dove has approved this video, but there are better offerings by this company!