Sterling: The Secret of the Lost Medallion
Theatrical Release:
March 25, 2004
DVD Release:
March 25, 2004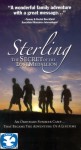 Synopsis
While at camp, Alex Sterling and his friends have stumbled upon an old journal left behind by his recently deceased grandfather, where they learn of the existence of a legendary medallion believed to have originally belonged to the Biblical King Solomon of Israel. Many adventures follow as they uncover clues leading to the final resting place of the medallion. Their adventure takes them through caves, secret passageways, river crossings and waterfalls, leading up to the their final confrontation with Alex's evil uncle Arch and his sidekick, Riley Jones.
Dove Review
This is a good kid flick! The presentation speaks their language, moves along with a pace of fun that will hold their interest, and delivers a good message that's not blasted at them. Alex and his friends bond and go on a literal treasure hunt, looking for the lost medallion, which has great value, as a means to save the camp Alex's father owns. The camp is in dire financial straits. While on the quest to save the camp, they learn many good lessons along the way. The greatest treasure, they learn, is what's planted in their hearts: the Word of God. I highly recommend this video for children and teenagers. This would be a welcome addition to a classroom or Sunday School class.