Dr. Cool and Pride: The Feeling Good Concert
Theatrical Release:
March 1, 2004
DVD Release:
March 1, 2004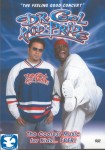 Synopsis
Hey kids! Listen up! Here are 10 of the coolest songs ever! Hip-hop, rap, and rock songs to make you laugh, think, dance and sing. Join in and we promise: you will feel good. And when you feel good, great things happen!
Do you feel inspired to write a song of your own? Do it! Express yourself! It's easy and fun.
Dove Review
This is a wonderfully upbeat song and dance DVD that kids will love! Dr. Cool and Pride teach valuable lessons in their songs, like "Stop and Think," which tells kids its o.k. to think for themselves or ask an adult instead of listening to their peers. There is also a great song called "Readers are Leaders" that encourages kids to read, read, read! The interactive style of the music videos will also get those "couch potatoes" up and active.