Tales of Moondale Haven: George the Head
Theatrical Release:
March 28, 2004
DVD Release:
March 28, 2004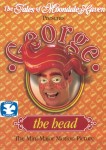 Synopsis
George has everything a boy could want – parents who love him, a pixie who watches over him, loads of toys, and a sparkling personality. The only thing he doesn't have is a body. Not that it ever bothered him, though. He can roll as fast as anyone can run, and he has his own customized mode of transportation: the George Board! But when he asks his dream girl Polly Anna out on a date, everything changes.
After being turned down because he's just a head, George begins to question whether or not he's as happy as he thinks he is. So when Mother Moondale, the resident pixie of Moondale Haven, offers to grant his a wish to give him happiness, she's quite sure what that wish will be. When it's something quite different, a valuable lesson is learned by everyone in town! George learns about the importance of individuality and self-esteem with all of his friends in Moondale Haven, a most special and unusual place!
Dove Review
In his first effort Jeff Kribs creates a highly original and unique video in "George the Head." At first I thought it might be like the old joke of the boy with no body, but be ready for a ride into the realm of fantasy and young kid fun. This DVD is filled with color, motion, wild characters and upbeat original songs that your child is sure to enjoy. The target audience is kids from age 3 – 7years of age. Valuable lessons of individuality and self-esteem are taught in the story of "George the Head." It shows kids that even if you are different than most others, you can still be happy and content.
Info
Company:
Moondale Haven L.P.
Industry Rating:
Not Rated