Lovely Baby CD Volume 4
Theatrical Release:
April 12, 2004
DVD Release:
April 12, 2004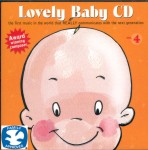 Synopsis
Babies around the world already enjoy the music of composer Raimond Lap. The "Lovely Baby" CD series is quickly becoming recognized as the most efficient way of stimulating, educating and entertaining babies. No other CDs have gone through so many tests and tryouts. It is important that babies encounter a pallet of styles and well-arranged music. This will positively stimulate the development of the brain and result in better educational results, as well as stimulate babies' creativity and musical abilities.
Dove Review
This is good music for anyone wanting to listen to something different. The focus is babies of course, and the sweet sounds of baby gurgles and coos, along with the well played music, all make for a wonderful experience for playing anytime for your child. The American Pediatric Association released a report just last week, stating the very negative effects of television on children under the age of two. I definitely see this type of musical material as a counterpoint to parents wanting to stimulate their babies, without loading their brains with images on the TV screen. This CD is therefore highly recommended, and we proudly award it 5 Doves.
Info
Company:
Lovely Baby Music
Industry Rating:
Not Rated