World Art
Theatrical Release:
May 7, 2004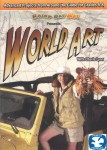 Synopsis
Cherie Lynn is your personal art tour guide for a fun-filled trip around the globe. You'll learn about other cultures by creating art inspired by people from all over the world, which includes 12 projects. Cherie Lynn has been teaching K-8 art for 22 years. She has a Master's degree in art and education and has been published in many national art publications.
Dove Review
This video has so much packed into the 3 hours, that you'll be saying, "This is good bang for your buck!" There is an overview presented at the beginning, giving the full listing of projects. Cherie Lynn is the narrator/teacher, and for each project she gives the in-depth history of what you'll be making, along with a detailed list of supplies, followed by the "How To" instructions. It's easy to stop the DVD, do your work, and then begin again!
I thoroughly enjoyed watching Sand Painting, with music in the background. There are also projects titled: Greek Vase; Roman Janus Mask; Plain Indian Shield; African Bean Mask; Gope Boards; Chinese Jar Scroll; and Egyptian Picture Frame Mask, to name a partial listing of the fine offerings. I found the history of the Egyptian Frame Mask fascinating, because I've been to Egypt and seen the pyramids. The masks were used in the entombing process of mummies.
In addition to all these projects, there are also other projects on this DVD: Rainy Day Art, Rules of the Road, Good Golf is Easy and The Ambient Series.
If you're a mom, teacher, Sunday School teacher, or looking for a fun project to do with grandchildren, this DVD provides a literal storehouse of good information that's well organized and easy to understand.
Info
Industry Rating:
Not Rated