Tiny Tot Sports: Baby Baseball
Theatrical Release:
May 7, 2004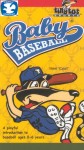 Synopsis
"Baby Baseball" is the first in a series of athletic-themed videos produced to create an early interest in sports, friendship and teamwork. "Baby Baseball" is shapes, colors, toddler interaction, bats, balls, and characters that are stimulating and entertaining.
Dove Review
The kids are cute, and the spiffed-up baseballs, with faces, are adorable. The basics of baseball are shown: T ball is featured, with children hitting the ball from the placed T stand. The producers have targeted this video for up to 6 yrs. old. I found it to be disjointed at times. In one scene, the child is hitting the ball, and the next scene, there are many children running toward the camera and having fun. There are scenes of many colored bats in various shapes. If you're wanting to introduce baseball to your child with a video, this will fill your need.