Baby Soccer
Theatrical Release:
May 20, 2004
DVD Release:
May 20, 2004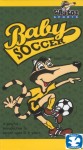 Synopsis
Tiny Tot "Baby Soccer" is part of a series of athletics-themed videos produced to create an early interest in sports, friendship and teamwork, leading to a lifetime of physical fitness and sports fun. The video aims at teaching girls and boys confidence, positive self-image, self-esteem, goal -setting, and personal achievement.
Children involved in athletics are intellectually stimulated and may generally perform better academically. Team sports are beneficial to the development of good social skills, which are crucial to success in today's world. Many lasting friendships are derived from childhood sports activities. "Baby Soccer" shows shapes, colors, toddler interaction, balls, and characters that are stimulating and entertaining.
Dove Review
Teaching children about sports and trying to get them interested in sports is important, and "Baby Soccer" does exactly that. With great real life examples of how soccer is played, the kids learn how the game is played and also see how fun both soccer and all sports can be. It is a great movie for kids who are already playing soccer and kids who have never even laced up their cleats. This movie also teaches the emotional elements of sports, such as teamwork and perseverance. I thought it was a great movie.