The Krew: Strangers
Theatrical Release:
June 4, 2004
DVD Release:
June 4, 2004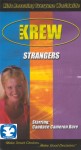 Synopsis
Introducing America's first hi-tech super force for safety. Four amazing kids join "The Chief," a former CIA mastermind, to create an extraordinary team inspiring good decision making and providing the tools to make smart choices.
The Krew's headquarters are the most advanced ever built. When they are alerted to new dangerous situations, The Krew is covertly sent to the aid of unsuspecting kids in trouble in order to encourage them to make the right decision.
In "Strangers," The Krew tackles the timely topic of dealing with strangers. This hi-tech, fast-paced and entertaining video is so much fun that kids will love learning some of the most important lessons in their lives.
Dove Review
This is an amazing idea made into a movie. Teach children about dangerous situations and what they have to do to protect themselves and you'll have safer children. But teach them in a fun and entertaining way, and you'll have your kids on the defense. That is exactly what this great video does. It teaches your children about many dangers around them, but instead of trying to scare them, they present the information so that the kids can feel comfortable in these situations and know what to do. "The Krew: Strangers" is a great movie with a great message.