Garfield: The Movie
Theatrical Release:
June 11, 2004
DVD Release:
October 19, 2004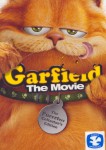 Synopsis
The big, fat, lazy, orange cat, Garfield (voice of Bill Murray), rules the roost and the cul-de-sac where he and his owner, Jon Arbuckle (Breckin Meyer), live. Jon is a nice, single guy with a crush on Liz (Jennifer Love Hewitt), the veterinarian. The slightest cough or sign of an upset stomach from Garfield sends the two rushing to see Liz. On one such visit, Liz introduces Jon to Odie, a homeless, gentle dog. To Garfield's horror, Odie suddenly becomes the center of Jon's attention. When Odie steals the spotlight at a pet fair with his dancing, Garfield devises a way to get rid of him. Odie is soon lost and then kidnapped by the villainous Happy Chapman (Stephen Tobolowsky), a TV star in need of a new act. Garfield decides he must be the hero to save Odie, and the adventure begins. Lots of action and hilarious antics follow as Garfield enlists the help of a pack of rats, cats and dogs to rescue his house mate. Garfield is good summer entertainment for all ages.
Dove Review
In this funny movie Garfield has it all – he's the king of the house, he can visit the streets and he has Jon, his owner. Jon is a single guy who has a crush on the veterinarian, Liz. Jon takes Garfield in to the vet every chance he gets. During the last visit Liz offers Jon to take home a stray dog, Odie. Jon is hesitant at first but soon treats him likes his best friend. Odie is discovered by a man at a dog fair who wants him in one of his acts. But Jon doesn't agree, so the man kidnaps Odie. Garfield is the hero when he saves Odie. Now Jon, Odie and Garfield are best friends. This is a great movie for the whole family, with a lot of action as well as funny moments, like when Odie and Garfield are dancing together.
Info
Company:
20th Century Fox Home Ent.
Writer:
Jim Davis and Joel Cohen
Reviewer:
Hannah Randolph