Contending for the Faith
Theatrical Release:
June 14, 2004
DVD Release:
June 14, 2004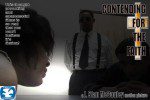 Synopsis
This is set in the year 2008, and a radio reporter finds herself involved in a plot by a United States Government Agency to destroy the Christian church, which has been forced underground.
Dove Review
This is an independent production and overall is very well done. The story line is engaging and presents a lot for believers in the 21st century to think about, with government intervention into our ability to worship our Creator. There are instances where the sound quality is poor, and due to this, I sometimes was unable to hear the actors' spoken lines. The tight camera effect is well done and the action moves at a good pace throughout. Had the sound quality been better, I'd have given it another Dove! I don't want to speak a lot about the plot (I don't want to give it away), except to say it's presented in a concise and believable format. There are scenes that take place in a nightclub, and the music/singing are great.
Although this film is approved for all ages, I recommend this for 12+ because I don't think young children will be able to grasp the concepts being presented.
Info
Company:
Light Source Productions
Starring:
Nyesha Smith
,
Mensur Begic
,
Petulia Black
,
William Perez
,
Paul Wilusz
,
Brian Libert
,
Kinyata Lewis
,
Christopher Stan
,
D.B. Grant
,
Keenyha Smith
,
Felix Munoz
,
Edmond Almada
,
Nancy Mulroy
,
John Kennelley