Learn Chinese with Billy and Benboo
Theatrical Release:
June 19, 2004
DVD Release:
June 19, 2004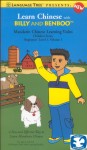 Synopsis
"Learn Chinese with Billy and Benboo" introduces Mandarin Chinese to children in a fun and easy-to-grasp manner. Filled with colorful images, entertaining stories, and catchy songs, this video is sure to engage your child from start to finish. Billy and his cute Shih-tzu dog, Benboo, will teach children and parents useful phrases and vocabulary words appropriate for everyday situations, such as meeting and greeting, bathing, playing with friends, eating, and much more. To help develop proper pronunciations, this video also explains Chinese tones in a truly unique and easily comprehensible way.
Dove Review
Anybody wanting an introduction to Mandarin Chinese would greatly benefit from this video. The teaching methods are clear, concise, and repeated for emphasis each time. Each video has an instructional booklet with phonetic pronunciations for each word.
The cartoon characters are cute, without being cutesy; they don't detract from the message: to teach the basics of an intricate language. The tones that are characteristic of the Mandarin dialect are taught with pictures and sounds that any young child can grasp. One word, spelled exactly the same, has four different meanings, depending on where the inflection is placed and the tonal quality in which it is spoken.
This is a quality product, recommended for anyone wanting to connect with the Chinese culture.