Popular Mechanics for Kids: Slither and Slime
Theatrical Release:
July 13, 2004
DVD Release:
July 13, 2004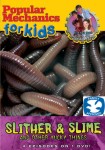 Synopsis
Gross out! Join Jay, Elisha, Tyler and Vanessa as they skulk down stinky sewers, dig through piles of garbage, and bug out with leeches, roaches and worms in four episodes of exploring many wondrous things that some people might consider slimy and yucky.
Dove Review
I really enjoyed this video even though it wasn't designed for my age group. It is really upbeat and exciting and I learned some things that I had never known before. These brave kids go places that even some adults would not dare to go. Jay and Elisha travel down into the sewers to see where our waste goes and follow it all the way to the water recycling plant. They also go to the biggest garbage dump in the United States and explore what people threw away over 20 years ago. Elisha and Tyler go to a huge bug museum and learn about all different types of creepy crawlers, and later they look at the world's biggest octopus, frogs, and some squishy worms on a worm farm. This is a great video and a great series that everyone should watch.