Popular Mechanics for Kids: Radical Rockets
Theatrical Release:
July 13, 2004
DVD Release:
July 13, 2004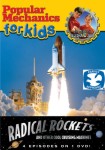 Synopsis
Kid hosts Elisha and Jay take viewers on a wild ride as they explore all sorts of transportation. You'll dive down to the deepest part of the ocean; rumble with monster trucks; learn to sail a ship; drive a race car and blast off into outer space. The video includes four action-packed episodes.
Dove Review
I really enjoyed this video even though it is not geared towards my age group. It is upbeat and very entertaining. It held my interest throughout the whole video. I even learned some things that I hadn't known before. Jay and Elisha explore submarines and even take a look at the sub that dives into the deepest parts of the ocean. The next episode is all about cool cars. They look at monster trucks, see a car that drives itself, and even get behind the wheel. Next they venture out to learn more about boats. The hosts go with the United States Coast Guard and learn to tie knots and even sail. The last episode is about spaceships. They go into simulators to see what a real ride on a spaceship would be like, and Elisha even gets to slip into a spacesuit. This is a great video and a great series that I recommend to everyone.