Roger Days Rock n Roll Rodeo
Theatrical Release:
January 1, 1997
DVD Release:
January 1, 1997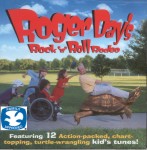 Synopsis
12 action-packed, chart-topping, turtle-wrangling kid's tunes by award-winning singer/songwriter Roger Day, featuring:
1. Reach Up
2. Mosquito Burrito
3. Rockin' ABCs
4. Here Comes Mr. Snake
5. Tookalamoga
6. My First Loose Tooth
7. My Invisible Dinosaur
8. I Got Hands
9. Can You Point Your Finger?
10. Jump Up and Turn Around
11. Marvin the Marvelous Moose
12. The Bear Who Sings Boogala, Boogala, Bah
Dove Review
Roger Day continues to make a musical splash with his original and wacky songs. Parents will laugh as their kids sing to Roger's music. As a grandparent of 5, I am always looking for entertaining and educational material for my grandkids. Roger Day never disappoints!
Info
Company:
Roger Day Productions
Producer:
Roger Day and Ron de la Vega
Industry Rating:
Not Rated