Bumblz: Clubhouse Friends
Theatrical Release:
August 5, 2004
DVD Release:
July 7, 2004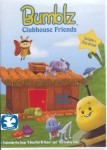 Synopsis
Bumblz and Slomo want to build a clubhouse to hang out and have fun in – but they encounter problems along the way. Can their new friends Fuzzette, Corky and Spinny help them out? See the Bumblz gang use friendship, cooperation, and the power of imagination to overcome the odds!
Dove Review
Have you ever wondered what goes through a child's head as they watch a movie or a TV show? Well during this short but cute show you will find out. What first caught my attention were the bright colors; next was the constant smiling upbeat atmosphere. As you watch Bumblz and Slomo try to build a clubhouse, you find yourself rooting for them to succeed. Unfortunately it collapses, which is where Fuzzette comes in to help build the foundation. Then you have Corky, who finds more wood, and last but not least is Spinny, who helps to put the roof on the clubhouse. All-in-all they have each found a way to contribute a part to help. I wholeheartedly recommend this movie, you will turn the TV off with a feel good feeling.