Benji Off the Leash
Theatrical Release:
August 20, 2004
DVD Release:
December 28, 2004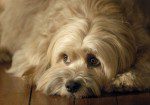 Synopsis
Benji is taking down the system because things are just not right. This is a story about heroes; three unlikely, unsuspecting souls who come face-to-face with that moment in their lives when they must stand and be counted. For Sheldon, it's difficult because he doesn't appear to be the brightest guy in the world (although he might be the funniest). For Colby, it's even more difficult because he's only 14 years old, and up against enormous odds. For Benji, it's almost impossible… because, after all, he's just a dog, lost and alone, with nothing but a belligerent bird and a bungling stray mutt to help. A band of unlikely comrades, brought together by the least likely of the bunch, for a common, courageous purpose. Things will change. Lives will be saved. Because Benji is off the leash!
Dove Review
"Benji Off the Leash" is a heartwarming story about a hero – a tiny hero, that is! A lot of people mistake animals as just being pets or play mates, but in this film, that theory is proven wrong. Benji takes you on a fun adventure as he saves one friend after another. The way Joe Camp gets these animals to do the things they do is amazing. You think that Benji is having wonderful human caring emotions that warm your soul. Many people would do good to learn compassion, helpfulness, resourcefulness, and persistence from the lovable Benji.
Sheldon the animal control employee and his sidekick are pretty funny at creating Laurel and Hardy type comedic scenes. Many times in their bumbling escapades, they made me laugh out loud with the predicaments they got themselves into.
"Benji Off The Leash" is a good film that parents can enjoy with their kids, and it will remind parents of the kind of clean cut, fun films they used to see as kids. Joe Camp has done it again and we're glad he did. This film is recommended to everyone, but especially those contemplating adopting a pet. "Benji Off The Leash" will make your decision an easy one. Truly heartwarming!
Info
Reviewer:
Stacy Haight and Dave Lukens