George W. Bush: Faith in the White House
Theatrical Release:
August 20, 2004
DVD Release:
August 20, 2004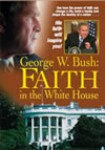 Synopsis
He is the commander-in-chief of the world's greatest superpower; the leader of the free world; the head of the executive branch of the U.S. government. The weight of responsibility is enormous, and it drives George W. Bush to his knees…in prayer. Like no other president in the history of our nation, George W. Bush boldly, publicly, and genuinely lives out his faith on the job. But he didn't always. By age 40 George W. Bush, in his own words, was "going absolutely nowhere." But God knew exactly where He wanted the struggling Texan to go.
This powerful program chronicles the President's dramatic shift from the local bar to the community Bible study. It offers an insider's look at how one man's dedication to prayer and the daily application of God's Word transformed his life. He gave up drinking cold turkey, cleaned up his language, and quickly became a strong, positive influence on those around him. His dependence upon the Lord gave him the exact clarity of vision and quiet confidence needed to lead us through the 9/11 terrorist attacks and the Iraq war. Witness for yourself George W. Bush's remarkable journey of faith from the bar room to the Oval Office.
Dove Review
An insightful film on the real George W. Bush, not the fictitious spiteful version seen in "Farenheit 9/11." Here you get to see Bush, the man of faith, and how he applies his faith to the task at hand. Every person on the fence on who to vote for this fall should see this film because it certainly will give them a lot to think about and will get them off the fence by realizing the character and faith of George W. Bush. Great job Grizzly Adams Productions. This story needs to be told.