Paws and Tales: Seeing the Unseen
Theatrical Release:
September 1, 2004
DVD Release:
November 16, 2004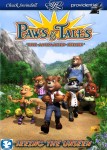 Synopsis
A camping trip on Wild Mountain becomes a life changing experience for the Club and their new friend Wally. Surrounded by the beauty of the mountain side, C.J. is surprised when Wally admits that he doesn't believe in anything he can't see, including God. With the help of Paw Paw Chuck and the others, CJ tries to figure out how we can 'see' the unseen.
Dove Review
This animated series is sure to be enjoyed by kids and families everywhere. The video contains valuable life lessons. In "Seeing the Unseen," Paw Paw Chuck teaches the kids that just because you cannot hold things in your hand (or paw), like wind, love, air, and God, that doesn't mean that they aren't there. A storm comes up when the gang is out camping, so they take cover in a cave and when they come out after the storm, they can sure see the damage the wind had done. It's the same with God, says Paw Paw Chuck – we might not be able to see Him, but we can see the results of the work He does in the world and in people's lives. This new wholesome, faith-filled, beautifully animated series is sure to be a hit. The Doves are definitely flying high on this one.
Info
Company:
Providential Pictures
Director:
Cliff McDowell and Luke Minaker