This Little Piggy Stayed Home
Theatrical Release:
September 2, 2004
DVD Release:
September 2, 2004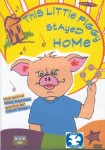 Synopsis
Weather too lousy to go out? Little one home from school with the sniffles? Just looking for activities?
At any time of the day, "This Little Piggy Stayed Home" brings constructive fun right to your home. The "This Little Piggy" series was conceived so that caregiver and child can interact together in a simulated class right in your living room. Join our playgroup and hear your child's favorite songs, learn some new ones, create art projects, and play their favorite games. Explore their favorite fantasy…together.
Dove Review
This movie is perfect for a rainy day, which is exactly what it's based on. From the very start this film will pull your children in with it's upbeat energy and excited atmosphere. To start out, you are welcomed with the "Hello" song, and from there you "wake up" your whole body starting with your toes and move all the way up to your head. You then move on to the ABC sing-a-long, Simon Says, Parachuet games, Arts and Crafts, Playground time, Freeze Play, Musical instruments and finally Nap time. There are so many different activities in this film it will be sure to hold your little one's attention.