Rock-a-Bye Baby
Theatrical Release:
September 2, 2004
DVD Release:
September 2, 2004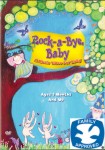 Synopsis
We are mothers (and sisters) who created "Rock-a-Bye Baby" after watching lots of other videos that promised to make our babies smarter. What we really wanted was a video that encourages our children to be happy, compassionate, and peaceful. "Rock-a-Bye Baby" is designed to calm and relax, inspire imagination, awaken creativity and encourage happiness and balance that reaches beyond the cognitive and into the soul.
You and your baby will enjoy a blend of whimsical visual imagery, color, peaceful nature sounds, and live music selected and composed to uplift and soothe the soul. We included lullabies we know and love that have been passed down through generations. You and your child will enjoy traditional songs sung in English, French, Gaelic, Spanish, Yiddish, Portuguese, Thai, Native American, and Bengalese.
Dove Review
Relaxation. That's what I thought of as I watched this music video. As you'll also see there are many different aspects to this video, which contains quite a bit to inspire the imagination. Starting from kids playing in the water to puppets, animals, food, playgrounds, rain, flowers and much more. The music is very relaxing with it's slow moving melodies and different languages. If you just want to sit down with your child in your lap and hopefully just rest, this is a nice video to pop in.