Dulcimer Americana
Theatrical Release:
September 2, 2004
DVD Release:
September 2, 2004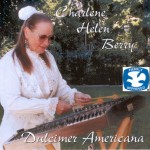 Synopsis
"Dulcimeer Americana" is a CD that features Charlene Helen Berry. Ms. Berry is listed in over a dozen Whos Who publications, with numerous awards. Her work includes many solo recordings, volumes of original compositions, and an educational video explaining hammering techniques.
Dove Review
The only negative thing I can say about this CD is that after song 18, the CD was over. I could listen to Ms. Berry play the Dulcimer forever! When I was in college I bought a Dulcimer and played around on it for awhile, never really getting very good. While mine was just a four string one, Ms. Berry's Hammer Dulcimer has many more stings and provides the listener with a tremendously rich sound quality.
This CD contains an original song by Ms. Berry called the Twilight Waltz; a delightful number to kick things off. The music she produces is so calming and beautiful. You will hear songs like Shenandoah, When Johnny Comes Marching Home Again, Whiskey Before Breakfast and many more wonderful melodies that Ms. Berry plays wonderfully.
Official Website: Dulcimer World
Info
Industry Rating:
Not Rated