Boca Beth: I Like Animals/Me Gustan Animales
Theatrical Release:
September 4, 2004
DVD Release:
September 4, 2004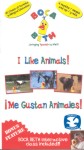 Synopsis
Give your child the gift of a second language. Studies have proven that bilingual children read sooner and score higher on standardized tests. Start the second language learning now. Experts agree – the earlier, the better.
Regala a tu hijo o hija la oportunidad de desarrollar un segundo idioma. Los Ninos billingues aprenden a leer mas temprano y obtienen mejores resultados en sus estudios. Empieza el aprendizaje del segundo idioma ahora. Los expertos coinciden: Cuanto antes, mejor!
Dove Review
They sing a whole song in English, and then they sing the exact same song in Spanish. They use computer animated images to catch your eye. In this episode, they are teaching about animals. They will go over one animal at a time, in both English and Spanish, and they teach you important facts about each animal. Common phrases in English are translated into Spanish so your child can learn them easily. Music and color and real life pictures are used to teach your child Spanish.
Ellos cantan una canción entera en inglés, y entonces ellos cantan la misma canción exacta en el español. Ellos utilizan la computadora las imágenes animadas para agarrar su ojo. En este episodio, ellos enseñan acerca de animales. Ellos repasarán un animal a la vez, en ambos inglés y español, y ellos le enseñan hechos importantes acerca de cada animal. Las frases comunes se traducen en inglés al español tan su niño los puede aprender fácilmente. Los retratos de la música y el color y la vida diaria se utilizan para enseñar su español de niño.