Fun with Silly Sally
Theatrical Release:
September 24, 2004
DVD Release:
September 24, 2004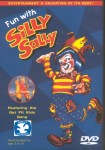 Synopsis
This video will get kids of all ages moving, singing and participating. Your kids can join the fun with Silly Sally and the Get Fit Kids Gang. Silly Sally's friends will help kids learn about their hearts and exercise, and will teach them how to be kids with good character.
Dove Review
This was a really cute and fun video. Silly Sally is a clown with a conviction for healthy and well rounded kids. She teaches them about the importance of getting enough exercise and getting good nutrition. She also teaches the kids about their muscles, the muscle names, and where they are located. She uses puppets and lots of color and other fun objects to capture and retain kids' attention. She is about the whole person, and in addition to physical fitness, she teaches your child how to be respectful and have good manners. This video will help make for a great, well-rounded child.