Strawberry Shortcake: Meet Strawberry Shortcake
Theatrical Release:
September 25, 2004
DVD Release:
September 25, 2004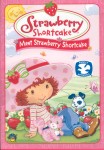 Synopsis
Join your berry special friend Strawberry Shortcake on her very first adventure! It's a berry merry birthday! Strawberry Shortcake is planning a first birthday party for her sister, Apple Dumpling, so she sets off on an adventure to find everything she needs for the perfect celebration. Her search takes her to some fun and fanciful places, like Cookie Corners, home of the amazing cookie making machine. And she meets some delightful new friends, like Orange Blossom, Angel Cake and Ginger Snap.
Dove Review
This is a really cute, fun video. The characters and their pets all have really sweet, original names that make me laugh. This video also has really great animation. All of the characters look nearly identical to all of the other accessories about Strawberry Shortcake. I also love the land that they live in. The scenery is enchanting. And the gadget that makes the cookies is really ingenious. This video also teaches some good lessons like "differences make us interesting and fun" and more lessons on friendship and cooperation. It is a really good video which includes an exclusive music video. Kids will love it!