Amazing Aliens: The Adventure Begins
Theatrical Release:
September 30, 2004
DVD Release:
September 30, 2004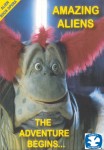 Synopsis
Direct from outer space, it's the first episode in The Amazing Aliens' new video series! Come along on an amazing adventure of discovery, fun, friendship, and teamwork. Join Zip, Zap, Gnarley, Fuzzball, Glitch, and dozens of the coolest extra-terrestrial rock 'n rollers in the universe as they discover what it is to be human. An alien rock opera, Rodan Pictures creates a modern day classic in the grand tradition of quality family entertainment. "And remember, the future just wouldn't be the same without us…"
Dove Review
Learn teamwork, friendship and have an all around good time with these crazy aliens as they visit earth for the first time. Through music and song, they will entertain young children with their unique style of music. Amazing Aliens Rocks!