Learn Spanish with Carlos and Chiquitita
Theatrical Release:
September 30, 2004
DVD Release:
September 30, 2004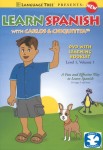 Synopsis
Learning Spanish has never been easier or more natural. "Learn Spanish with Carlos and Chiquitita" introduces Spanish in a way that kids love and understand. Filled with cool characters, colorful images, and fun sing-along songs, this DVD is sure to engage your child from start to finish. Carlos and his cute Chihuahua, Chiquitita, teach useful phrases and vocabulary words appropriate for everyday situations, such as meeting and greeting, bathing, playing with friends, eating, and much more.
Narrated and subtitled in English, "Learn Spanish with Carlos and Chiquitita" is perfect for beginner Spanish students.
* Incorporates a breakthrough Multi-Cognition Approach, developed by a Stanford University cognitive scientist, to enhance language learning
* Introduces over 100 practical phrases and vocabulary words
* Includes 6 complete lessons on everyday conversation
* Hip, dance-able songs reinforce lessons
* Native speakers provide authentic pronunciation
Dove Review
This DVD should be in every home. I thoroughly enjoyed my first lesson in Spanish. Each lesson is broken down into short meaningful segments that teach through repetition and song. Your children will play this one over and over again. I encourage parents to sit down with their children and reinforce the lessons they are learning. This one is a must have for home schoolers and parents who want their children to grow up knowing another language.