Strawberry Shortcake: Get Well Adventure
Theatrical Release:
September 30, 2004
DVD Release:
September 30, 2004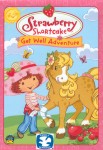 Synopsis
When Honey Pie hurts her leg, she must stay in bed and rest instead of heading off on the grand adventure she'd been so looking forward to. To calm down the impatient patient, Strawberry Shortcake and her friends work together telling stories and singing songs to cheer Honey Pie up and make her feel better. A day that started so badly becomes berry special indeed!
Dove Review
This movie is so sweet, from what Strawberry does for her friends to the sweet strawberry scent on the package. Every one of the "Strawberry Shortcake" videos has a great message, and "Get Well Adventure" packs a big one. Honey Pie complains so much that her friends almost leave. But Strawberry calls them all back and shows them how to deal with someone who sees the glass as half empty and how to get the person to see it as half full.