The Bible
Theatrical Release:
October 7, 2004
DVD Release:
October 7, 2004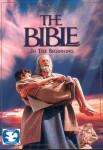 Synopsis
The greatest stories of the Old Testament are brought to the screen with astounding scope and power in this international film which depicts the first 22 chapters of Genesis. This is the spectacular story of man's creation, his fall, his survival and his formidable faith in the future. From the film's opening amidst cosmic chaos, to its lingering message of hope and salvation, "The Bible" stands as a monumental motion picture achievement.
Dove Review
I have read the Bible before, and I know and understand all of the stories. But never in my life could I have brought the stories to life as was done in this film. Adam and Eve were real people with real sins and the viewer sees them go from being in God's favor to having to fend for themselves. The wicked age of Noah is shown too. Noah is seen building the ark and gathering in the animals, and then the mighty rains pour down and wipe out the scum of the earth while Noah and his family survive. The viewer sees everything that happens in the first 22 chapters of the book of Genesis, and it no longer is a book, or just the Word of God, but a real happening on the screen. I loved this video because it took everything that was in my head from the Bible and put it on screen so I and other viewers could really see the great workings of God.
Info
Company:
20th Century Fox Home Ent.