The Robe
Theatrical Release:
October 9, 2004
DVD Release:
March 17, 2009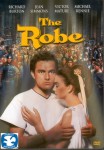 Synopsis
The first movie ever filmed in CinemaScope, "The Robe" was nominated for five Academy Awards in 1953, including best picture and best actor. Burton stars as Marcellus Gallio, the Roman centurion charged with overseeing the crucifixion. But when he wins Christ's robe in a gambling game at the foot of the cross, his life is forever changed.
Dove Review
This classic film has been restored for a new DVD release and the picture probably looks better now than it did when it was first released! It looks new. The colors are vibrant, there are no specks or signs of film wear, and the cinematography to begin with was outstanding. It was also the first Twentieth Century Fox release in CinemaScope and the wide screen presentation works perfectly with this particular film.
Richard Burton stars in this film as a Roman leader named Marcellus, who actually is involved in the crucifixion of Jesus. However, when his servant Demetrius (Victor Mature) gains possession of Jesus' robe following his death, Marcellus has contact with it and that, along with his memory of hearing Jesus called the Son of God at the crucifixion, convicts him. He fights two convictions: his ingrained Roman training and his recent experience that Jesus was indeed special. He eventually must decide whether to denounce Jesus or make a stand for him.
There are a few violent scenes in the movie, but nothing too graphic and there is little blood revealed. The Bible states that the garments of Jesus were gambled for and no one knows for sure what happened to his robe. However, the filmmakers obviously handled this film about Jesus and how he affected people with sensitivity and reverence. Burton gives an outstanding performance, as does the entire cast. Many stars appear briefly in cameo roles including Michael Rennie, Richard Boone and Jean Simmons. Although the film is recommended for ages twelve plus, due to the mature theme and some mild violence, some parents may be comfortable with their mature children viewing this picture. We are pleased to award five Doves to this film, our highest rating. "The Robe" still "fits" nicely today.
Info
Company:
20th Century Fox Home Ent.
Industry Rating:
Not Rated
Reviewer:
Edwin L. Carpenter