Bugtime Adventures: Blessing in Disguise
Theatrical Release:
October 11, 2004
DVD Release:
October 11, 2004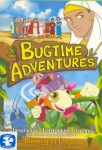 Synopsis
Joseph is Egyptian Governor and his brothers come to buy food but do not know who he is. Joseph tells his story to his servant Ko-Ru, explaining to Ko-Ru the things that his brothers did to him and the things that have happened to him. After Joseph has finished, Ko-Ru tells him it is the time for revenge. Joseph decides to forgive his brothers because he knows God turned the evil his brothers did into a blessing by putting him into a position to save his people from the famine.
There is a picnic in Bugsville, Antoni does some tricks to get the kid bugs' mind off their loss. Then Dex sabotoges the act because of Roderick's coaxing. Antoni gets laughed at by everyone when he falls into a heap. Antoni decides to get revenge on Roderick. Instead of helping his friends with repairs as he had promised, he builds a surprise for Roderick. Then after hearing Joseph talk to Ko-Ru, he decides not to get even. Antoni runs to save Roderick but it backfires and the goop goes on him.
Dove Review
In this episode Joseph is the Governor and his brothers, who betrayed him, have come to the palace to have a meal. He explains to a servant about his brothers and what they did to him. Joseph comes to the conclusion to forgive them. Antoni the ant gets bullied into showing off at a picnic and everyone laughs at him, so he decides to get revenge on Roderick. Then Antoni decides revenge is not good and tries to save Roderick from the catapult goop which instead hits Antoni. Your children learn the bible story and how the values can be used in their own lives.
Info
Company:
Lightning Bug Flix
Industry Rating:
Not Rated