Pilgrimages of Europe
Theatrical Release:
October 15, 2004
DVD Release:
October 15, 2004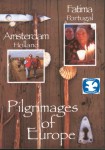 Synopsis
The history of Amsterdam as an ancient place of pilgrimage dates to the Middle Ages. In the 13th or 14th centuries, Amsterdam was a small settlement at the mouth of the river Amstel. It was also called Miracle City, and it owes that name of the Miracle of the Holy Sacrament. The story dates from March 13th, 1345, when a dying man was given the Sacrament of the Sick in his house on Kalverstraat. A chapel was built on the site. Medieval Amsterdam grew into an important place of pilgrimage. And every year on the 3rd Saturday of March, thousands of pilgrims from all over Holland take part in the procession. Most arrive by bus or train. But in many of the smaller towns surrounding Amsterdam the entire journey is made on foot, some pilgrims walking as many as forty miles to reach Amsterdam.
Dove Review
This film includes many pilgrimages across Europe besides Amsterdam. Those included are Belgium, Bosnia, France, Germany, Ireland, Poland, Portugal, Scotland and Spain. The history surrounding each of the pilgrimages is very interesting. The narration and translation of each country is good.