Mike Mulligan and his Steam Shovel (CD)
Theatrical Release:
November 1, 2004
DVD Release:
November 1, 2004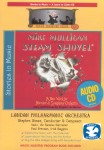 Synopsis
Magic Maestro Music is the ambassador of great music for both children and adults, helping them experience the art form in new and exciting ways. Through wondrous new recordings, innovative educational and performance materials, and uplifting live performances, Magic Maestro Music guides audiences as they expand their listening horizons and discover the magic that can only be called music.
Dove Review
This audio CD has many great features. You begin this CD with the narrated story of Mike Mulligan and his steam shovel set to the music of the London Philharmonic Orchestra. This will expose all ages to the symphony and make it educational too. After the story I learned about the story and the author, about the music, and had a sing along. The booklet with this CD is your program guide as if you went to the symphony, plus it contains some activities, dot to dot, a word search and the words to the Mike Mulligan song. You can have a sing-a-long and great discussions.