Pastor Gregs First Christmas
Theatrical Release:
November 5, 2004
DVD Release:
November 5, 2004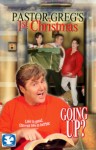 Synopsis
The only Christian TV sitcom in the world is making huge strides in proving that family entertainment is not a dying breed. Back by popular demand, Pastor Greg and his zany crew present a Christmas Special that delivers the endearing, side-splitting comedy that is the trademark of "Pastor Greg" creator, writer, and actor Greg Robbins.
Produced by Cornerstone TeleVision Network and Uplifting Entertainment, "Pastor Greg's First Christmas" is scheduled for release on October 15, 2004 and will be aired on major secular and Christian networks worldwide.
"It's the perfect blend of comedy and heart-warming drama," says Robbins. Still trying to win over a skeptical congregation, recovered party animal Pastor Greg gears up for his first Christmas sermon. As God would have it, his plans take an unexpected turn. Pastor Greg cashes in on a shopping spree the day of his much-anticipated sermon. In a frenzy to get back in time, he unwittingly gets stuck in an elevator along with cohorts Lori, John, Frank and a pregnant woman. The surprise ending will have the congregation and viewing audiences on the edge of their seats.
Dove Review
This is like your home movies of the family and the things that sometimes happen. You have moments that make you laugh and some that make you cry. Pastor Greg is a very funny person with a message. God has given him a great gift. As Pastor Greg gets ready for his first Christmas sermon, he finds his inspiration in a most unusual place.