VRRROOOMMM 4: Citrus Farming for Kids
Theatrical Release:
November 17, 2004
DVD Release:
November 17, 2004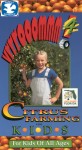 Synopsis
Join Farmer Bill as he heads south for a first hand look at growing oranges and grapefruit. From grove maintenance to harvesting with a prototype mechanical picker, to fresh market packing and processing at a juice factory, there's plenty of hi-tech machinery and impressive footage to entertain viewers of all ages.
Dove Review
This film is very educational. I enjoyed learning about citrus fruits from how they are grown, and the process of juicing or shipping of fresh fruit to grocery stores. This video will keep anyone's attention; it is so interesting that it really makes you want to learn more.