All About John Deere Part 1
Theatrical Release:
November 18, 2004
DVD Release:
November 18, 2004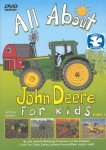 Synopsis
See both new and antique John Deere equipment in action – tractors, excavators, cultivators, dozers, planters, and dump trucks. We trace the growing season – how soil is prepped, seeds planted, and the crops are cultivated. See John Deere's biggest tractors along with Johnny Poppers, including the 1925 Spoker D, and the rare 8020 from 1960. We visit a John Deere auction, the Two-Cylinder Expo, and there's a nice segment on farm toys. Wall-to-wall Green and Yellow action plus the award-winning music of James Coffey. Kids learn, laugh, and want more. Grown-ups, too.
Dove Review
Information and music about John Deere tractors and equipment. It will keep your attention with all the facts and music about John Deere. Kids will love it and so will adults no matter if you are from the city or the country. It takes you to the fields, to collectors of John Deere equipment, and even shows the toy replicas. It will make you smile and laugh.