All About Cowboys for Kids Part 1
Theatrical Release:
November 18, 2004
DVD Release:
November 18, 2004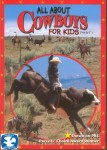 Synopsis
All About Cowboys is an exciting mix of cowboy action, western lore, and the lively music of Bethany Zill. Beth sings both classic and original songs. We'll visit the Cheyenne Frontier Days Rodeo where bull riders and bronco busters match their skills against 1,500-pound bulls and wild, bucking horses. We'll visit Bridger, a seven-year-old cowboy, and his pony Mabel. See amazing trick riders, crack a bullwhip, tame a wild horse, and meet Max Reynolds, a world-class trick roper. All this against backdrops of blue skies, misty mountains, and the golden prairie. Kids will learn, laugh, and want more, and grown-ups will, too.
Dove Review
Not only is this video very educational but it is very entertaining. This video is filled with music, facts, history and stories all tied together by cowboys. As you sit and watch this with your children you will enjoy it as much as they do. It is good to know that some of the old west is still alive and well today.