Little Noah
Theatrical Release:
December 9, 2004
DVD Release:
December 16, 2004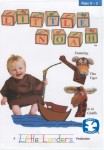 Synopsis
"Little Noah" allows your little one to experience the true story of Noah as told in the Bible. Unlike other products on the market, "Little Noah" stays true to the Biblical account of Noah and his family as their love for God calls them to build a huge boat, The Ark. As the animals are gathered into The Ark, your child will be exposed to the wonder of God's creation through the vast diversity in the animal kingdom including tigers, elephants, bears, kangaroos and more! Tibo Tiger and JoJo Giraffe guide us through the story as Noah's family and the animals navigate the great sea filled with a captivating diversity of aquatic creatures. The faith of Noah and his family are eventually fulfilled with God's promise: the rainbow.
Little Noah contains over 30 minutes of stimulating sights and sounds, featuring original musical mixes and traditional Bible songs sung by The Little Leaders Choir including "My God is So Big!," "He's Got the Whole World," and "The B-I-B-L-E." Bright and colorful animations help illustrate this wonderful story of obedience and courage.
Dove Review
If you want to introduce your young tots to the story of Noah and keep them interested, this video will help you. Telling the story about Noah with puppets and songs is fantastic. I believe children will enjoy it as much as I did even though it is for tots under 3. There are pictures of live animals and children that add to the enjoyment for little ones.