Dreamer: The Movie
Theatrical Release:
January 1, 2005
DVD Release:
January 1, 2005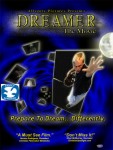 Synopsis
What do you get when a first-time director assembles a no-name cast to produce a low-budget movie in an unknown location, using a script that is considered to be too risky for Hollywood? In the case of "Dreamer: The Movie," you get a powerful story that audiences are saying, "lingers on in your mind long after you've seen it!"
Kevin Russell dreams of making a movie, but he finds himself faced with various obstacles which challenge him physically, mentally, and spiritually. That's the surface story, but in this movie that Christian Filmmaker Ministries calls, "A must see film," there are deep layers of hidden stories to be uncovered. Everything that you see and hear has a meaning, whether it be bold or strategically hidden. Critics and audiences agree that "Dreamer: The Movie" is more than just a movie. It's an experience that will change the way that you view life! So prepare to dream…differently!
Dove Review
This film shows the struggle of a young budding director who believes that he can make an entertaining movie without sex, language, drugs or violence. During his quest to produce the picture, he struggles with his family and friends who consistently tell him that it can't be done. His sole devotee is his grandfather, who optimistically supports the young director's vision. Faith and friendship eventually win out and the project becomes a reality.
Info
Company:
Allegory Pictures
Industry Rating:
Not Rated