The Magic of Ordinary Days
Theatrical Release:
January 30, 2005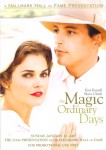 Synopsis
Keri Russell, Skeet Ulrich and Emmy Award winner Mare Winningham star in this new Hallmark Hall of Fame presentation. Set during World War II, the poignant love story is about an unwed pregnant woman who is sent to a small Colorado town to marry a lonely farmer who agrees to raise her child as his own.
Livy Dunne (Russell) dreams of a career as an archaeologist until she becomes pregnant by a dashing soldier who leaves her behind. Her father, a stern minister, banishes her from his family and sends her away to an arranged marriage with Ray Singleton (Ulrich), a hard-working man with whom she initially has little in common.
Though far from happy, Livy accepts her fate and is graciously taken in by the town's people and Ray's family including his sister, Martha (Winningham), a warm, friendly woman who welcomes Livy with open arms. Still, she continues to send letters to the missing soldier and holds out a grain of hope for his return.
Ray is patient and willing to do anything he can to make Livy comfortable in the home he has lived in all of his life. But it takes a visit from Livy's sister, who presents an opportunity for Livy to return home, and a friendship with a Japanese family who live in a nearby internment camp for her to begin to see the magic that ordinary life with Ray has to offer.
Dove Review
My sister and I have always enjoyed Hallmark movies. The stories are some that we can relate to. Some are stories from the past. "The Magic of Ordinary Days" is a love story that you hope will end the way you want it to as you watch Livy and Ray. I can't imagine meeting my husband for the first time on my wedding day as Ray and Livy did. These two young people are put into an arranged marriage and find love. It shows that sometimes with patience and kindness everything can work out for the best.
Info
Company:
Hallmark Home Entertainment