Bugtime Adventures: A Giant Problem
Theatrical Release:
May 10, 2005
DVD Release:
May 10, 2005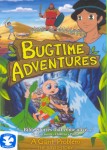 Synopsis
The armies of Israel are challenged to send out a single soldier to do battle with Goliath. No soldier is courageous enough to take on the task, at least not until little David walks onto the scene. David stoops down and gathers five smooth stones and stands in faith to fight the giant.
Meanwhile, at the feet of humans, another drama unfolds as Buggsville, the tiny bug town, is threatened with total destruction from the cracked and leaking water dam. Spud, the potato-bug civil engineer, has figured out a way for someone to plug up the hole before the dam breaks, but who will be brave enough to try? Can Meagan, the town's school-teacher ant, gather enough courage to accomplish the job?
Dove Review
This episode is about the story of David and Goliath. As we all know, it was David's faith that helped him defeat Goliath. This bug adventure is one of having faith in yourself to try things that might help others. I love to watch "Bugtime Adventures" because it shows a Bible story and how beliefs and faith can get you through everyday life.