Rayitos Del Saber: Las Formas (Shapes)
Theatrical Release:
February 3, 2005
DVD Release:
February 3, 2005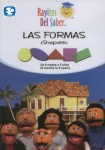 Synopsis
The "Rayitos Del Saber" video series is a great way to introduce your baby and young child to the Spanish language. Each video in the series is designed to stimulate their curiosity and imagination while teaching them basic lessons in Spanish.
"Volume One: Las Formas" is a fun video for children 6 months to 5 years of age. It is filled with great music sound effects, puppets, animations and montage sequences featuring each shape with toys, locations and more. Not only is this video fun, it is also educational and teaches children how to recognize basic shapes all around them. Any child can learn from and enjoy this wonderful video. You as a parent don't need to understand Spanish to enjoy it either. Sit down, watch, learn and have fun with your child.
Los primeros anos de su bebe' es una etapa muy importante para su desarrollo mental y emocional. "Rayitos Del Saber" es una serie de videos desenada para estimular la impaginacio'n y curiosidad de bebe's y ninos de edad preesolar mientras les ensena conceptos ba'sicos como las formas, los colores y los animales.
Los formas geometricas se encuentran por todos lados, El primer volumen de "Rayitos Del Saber: Las Formas," es una forma divertida de introducir a su nino a cinco formas geometicas, el circulo, el triangulo, el cuadrado, el rectangulo y el o'valo. Utilizando una familia de tireeres, animcio'n e imagenes del mundo que nos rodeo. Rayitos Del Saber: Las Fromas lo llevara' a usted y a su nino en un viaje magico por el mundo de las formas.