Auntie Muffins Childrens Bedtime Stories Volume 1
Theatrical Release:
February 15, 2005
DVD Release:
February 15, 2005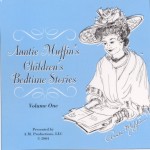 Synopsis
This selection of children's bedtime stories teach character education though lessons of morals and family values.
In "The Professor and the Polliwog," we learn that although people may change on the outside, (such as someone who has been badly burned or has lost their hair), they are still the same person on the inside.
In "Rootie Kazootie," we learn about honesty and integrity.
In "Bopper," a physically challenged bunny shares his toys.
In "Pusscat, The Sourpuss," you must work for what you have.
In "Hummer," we learn that although we are all different and unique, we are all important.
In "Boo! The Caribou," Boo is ridiculed because of how he looked, but saves the herd of caribou and becomes a hero.
In "Snookums, The Christmas Pup," a seeing-eye dog becomes a present to a blind child.
Dove Review
This CD features the delightful voice of Auntie Muffin telling bedtime stories. Each of the seven bedtime stories has a different adventure and a moral or family value to learn. These stories come alive in your imagination as you listen to Auntie Muffin's descriptive narration. You and your children will enjoy these calming stories at bedtime. The stories are from 6 to 13 minutes long. Listen to one at a time or all of them over and over again.
Info
Company:
A.M. Productions, LLC
Industry Rating:
Not Rated