Amazing Miracles
Theatrical Release:
June 15, 1991
DVD Release:
July 1, 2008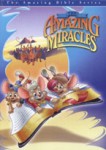 Synopsis
Children will delight in the exciting adventures of Doc Dickory, Rikki, Revver, and their friends as they discover that even when things look hopeless, God is a God of wonders and miracles!
Dove Review
You and your children will love this fun and educational sing-along film. This move is animated with two mice and a beetle as host. Other animated friends will Bible. As you travel along the road with these animated friends you and your children will learn about Moses parting the Red Sea, Joshua and the walls of Jericho, God stopping the sun for a day, Noah's ark and the flood, Moses hitting the rock in the wilderness to get water, and many others.
This film is focused towards children thirteen and under for the most part but can be enjoyed by the whole family. It has a fast pace to keep children interested. They will be wondering what is next. One of the best parts of this film is at the end. A song will take you on a ride to see the miracles of today such as butterflies, rainbows, and even yourself as a miracle worthy to be loved. We are proud to award this film our Dove Seal.