Bride and Prejudice
Theatrical Release:
March 11, 2005
DVD Release:
July 4, 2005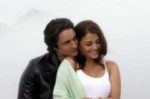 Synopsis
"Bride and Prejudice" puts an entirely different spin on Jane Austen's story of spirited courtship – Bollywood-style. Music, dance and spectacle merge with love, vanity and social pressures, as director Gurinder Chadha transports the comic tale of a witty young woman trying to find a suitable husband to a cross-cultural setting that spans 21st century India, London and America.
It all begins in a modest Indian village when the determined Mrs. Bakshi sets out to find marriage matches for her four beautiful daughters while there's a lavish wedding party in town. Right away, the smart and headstrong Lalita (Rai) announces she will only marry for love, giving her mother nightmares. Then Lalita meets the wealthy American Will Darcy (Henderson) and sparks immediately fly. But is it love or hate? Darcy comes off to Lalita as an arrogant California snob. Lalita looks to Darcy like a small-town Indian beauty who knows nothing of the world. Alternately enchanted by and suspicious of one another, Lalita and Darcy nearly fall prey to assumptions, gossip and a comedy of errors…until pride is humbled and prejudice overcome so that love can triumph.
Dove Review
This movie follows Hollywood's typical love story pattern which makes it very predictable. That, combined with songs which seem to be written by amateurs, is why my viewing in the theater will be the last for this film. It isn't completely absent of entertainment, though, as it jumps on the bandwagon of mocking MC Hammer in a dance scene. Also included is the overly used "older male attempting to fit in the hip hop culture." I don't recommend viewing this film or purchasing the soundtrack as the CD will soon become a coaster for the coffee table.
It is interesting to see the major differences in our culture compared to that of India. So much of our lives are driven by financial pride and theirs by cultural pride. Even though it isn't very fervent, the film shows how much more important love is over money in a marriage. This film is not Dove approved due to the use of a biblical profanity. Don't worry, though, the MC Hammer joke wasn't worth the price of the movie ticket.
Info
Company:
Miramax Pictures
Starring:
Martin Henderson
,
Aishwarya Rai
,
Daniel Gillies
,
Naveen Andrews
,
Namrata Shirodkar
,
Indira Varma
,
Nadira Babbar
,
Anupam Kher
,
Meghna Kothari
,
Piya Rai Choudhray
,
Nitin Ganatra
Reviewer:
Bradley B. Klinge