The Sandlot 2
Theatrical Release:
May 3, 2005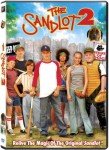 Synopsis
James Earl Jones ("Field of Dreams") reprises his role from "The Sandlot" in this fun-filled sequel that proves the power of teamwork and celebrates the magic of friendship. Ten years after the original story, the local dirt field is now "home" to a new group of neighborhood kids who get together to share laughs, show off…and play ball! But the gang faces their toughest challenge as they try to retrieve an irreplaceable model rocket that lands in the junkyard behind left field — a forbidden territory guarded by the legendary, growling, slobbering beast known as "The Great Fear."
Dove Review
Kids will certainly enjoy this sequel because it contains all the elements that kids like including baseball, fireworks, and a legendary challenge that the whole neighborhood faces together. It also has fun jokes, the "bad" kid and his gang, and some great music. I must say that there is some classic 70s music in this film that I enjoyed listening to. The plot is similar to the first movie but with different kids that have similar problems. My 16-year old son watched "The Sandlot 2" with me and was many times guessing what was going to happen next. But over the years he has probably watched "The Sandlot" about 10 or 15 times, so he was very familiar with the premise. For those kids that want to get a second helping of "The Sandlot," this sequel will be a big hit and maybe even a home-run over the left-field junkyard fence where The Great Fear resides.
Info
Company:
20th Century Fox Home Ent.