Strawberry Shortcake: Play Day Surprise
Theatrical Release:
April 11, 2005
DVD Release:
April 11, 2005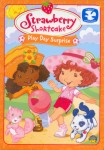 Synopsis
First, during a ball game, when things don't go Angel Cake's way, she decides to take her ball and go home. Thinking fast, Strawberry and Apple Dumpling teach Angel that the fun of sports is to have fun! Then, Peppermint Fizz is so determined to win the nearly once-a-yearly Strawberry Land Games, she cheats! But when Apple Dumpling beats her in a race, Peppermint learns that it's not whether you win or lose, but how you play the game that matters.
Dove Review
"Play Day Surprise" is yet another delightful addition to the "Strawberry Shortcake" series produced by 20th Century Fox Home Entertainment. In "Play Day Surprise," Strawberry Shortcake and her friends learn what it means to be a good sport. In the first half, Angel Cake gets frustrated when she doesn't catch on to the game of soccer. She doesn't handle it very well and walks away from the game altogether. Through the patience and kindness of her friends, Angel Cake is able to work through her bad attitude and cheerfully return to her spot on the team.
Much like the other "Strawberry Shortcake" videos, this one has several catchy songs throughout. The second half of the movie is about Peppermint Fizz and how her friends struggle with what to do when they discover she is cheating. Once again the series delivers a couple of great storylines and introduces young ones to important principles for life.